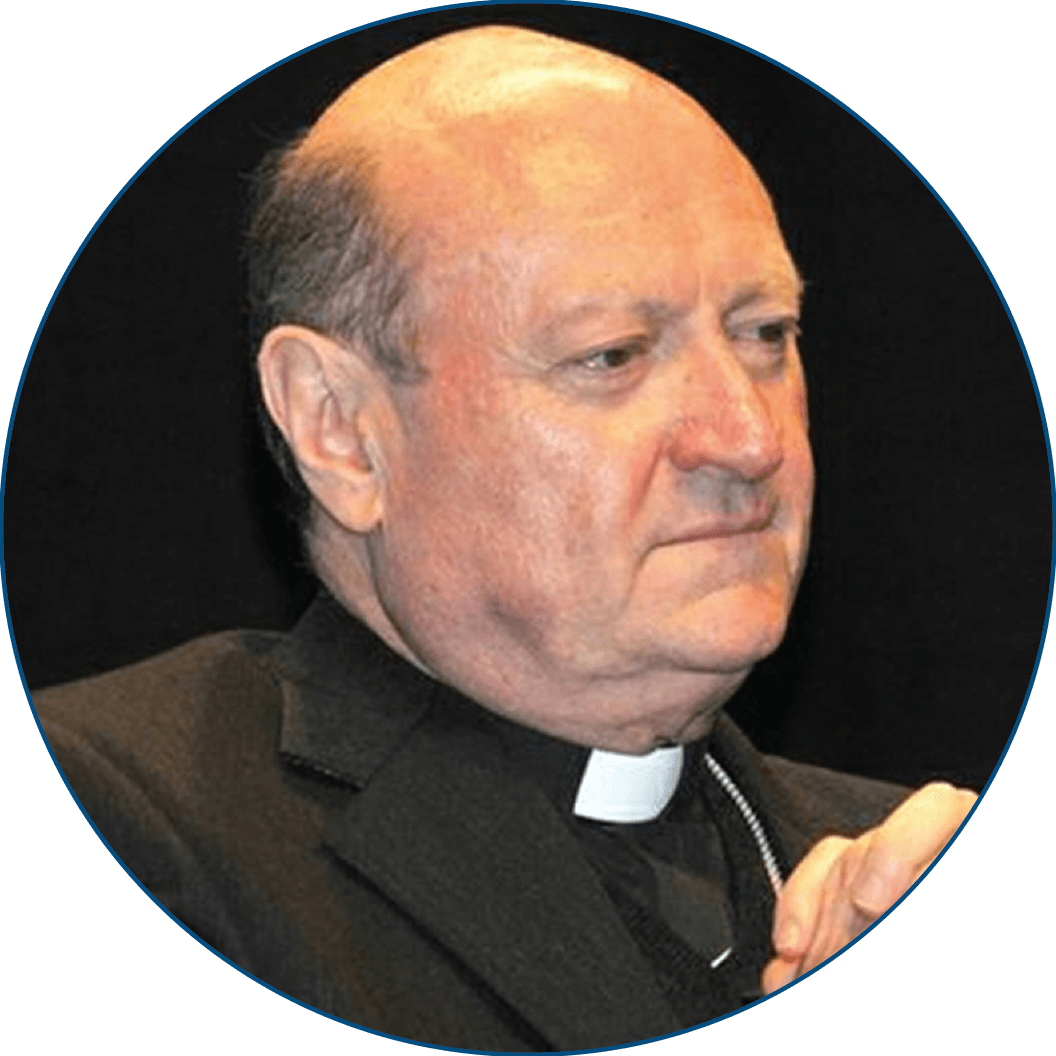 His Eminence Cardinal Gianfranco  Ravasi
President
Pontifical Council for Culture
Cardinal Gianfranco Ravasi was born in 1942 in Merate (Lecco). He was ordained a priest of the diocese of Milan in June 1966. From 1970 to 1989 he taught biblical Exegesis and Hebrew in the seminaries of Milan; from 1974 until 2007 he was a lecturer in biblical Exegesis (Wisdom Books) at the Theological Faculty of Northern Italy, where he also taught specialization courses. He carried out archaeological excavations in Israel and various countries of the Near East.
In November 1989 he was appointed prefect of the Biblioteca-Pinacoteca Ambrosiana in Milan (founded by Cardinal Federico Borromeo in 1607). On September 2, 2007, he was nominated by Pope Benedict XVI as President of the Pontifical Council for Culture, of the Pontifical Commissions for the Cultural Heritage of the Church and for Sacred Archaeology. By the same Pontiff on September 29, 2007, he was consecrated Archbishop of Villamagna di Proconsolare. Benedict XVI then created him Cardinal of the title of St. George in Velabro in the Consistory of 20 November 2010. In 2017 he was reconfirmed by Pope Francis as President of the Pontifical Council for Culture and the Pontifical Commission for Sacred Archaeology.
Cardinal Ravasi is a member of about twenty Italian and international academies. In July 2013 he was appointed honorary academician of the National Academy of Saint Cecilia, while since 2016 he has been an honorary member of the Parnassos Literary Academy of Athens, and since 2017 honorary academician of the Albertina Academy of Turin, as well as being awarded various literary and civil prizes and various state honors. He has received several honorary degrees conferred by universities in various parts of the world. Among others, from the University of Bucharest in October 2011 and the University of Yerevan (Armenia) in June 2011, while in 2012 the Catholic University of Lublin and the Pontifical Lateran University awarded him an Honorary Degree in Sacred Theology. In November 2013 he received an honoris causa degree in communication sciences from the Libera Università Maria Ss. Assunta of Rome. He received a degree in sacred theology from the Deusto University of Bilbao in March 2014. In November of the same year, he was awarded an honorary degree by two Argentine universities, the Argentine Catholic University of Buenos Aires and the Catholic University of Cordoba. In 2015 he received an honorary degree in theology from the Catholic University of Lisbon and an honorary degree in humanities from Loyola University of Chicago. In 2016 he received honoris causa degrees from the Catholic University of Curitiba (Brazil) and the Valparaiso University of Chile, while in 2017 he received an honoris causa degree in law from the Mediterranean University of Reggio Calabria. In June 2018 he was awarded an honorary degree in philology, literature and classical traditions by the Alma Mater Studiorum - University of Bologna. In February 2019 he was awarded an honoris causa degree in Italian language and literature by the National and Kapodistirian University of Athens.
His vast literary work amounts to about one hundred and fifty volumes, mainly on biblical and literary topics, and on dialogue with the sciences, with particular attention to the aesthetic dimension of the Sacred Texts. The most important are his commented editions on the Psalms (3 volumes), the Book of Job, the Song of Songs, the Book of Wisdom and Qohelet. He is also the author of a considerable number of works of great public impact such as "Breve storia dell'anima" (2003), "Ritorno alle virtù" (2005), "Breviario laico" (2006), "Le porte del peccato" (2007), "Le parole e i giorni" (2008), "500 curiosità della fede" (2009), "Questioni di fede" (2010), "Le parole del mattino" (2011), "Guida ai naviganti" (2012), "L'incontro, Esercizi Spirituali in Vaticano" (2013), "La Bibbia in un frammento" (2013), "Il cardinale e il filosofo" and "Le meraviglie dei Musei Vaticani" (2014), "Le pietre di inciampo del Vangelo" (2015), "Le Beatitudini" (2016), "Padri, madri, figli" (2017), "Spiritualità e Bibbia" (2018), "Breviario dei nostri giorni" (2018), "Cuori inquieti. I giovani nella Bibbia" (2018); and "Le sette parole di Gesù in croce, La santa violenza" and "Piccolo dizionario dei sentimenti" (2019).
In addition to being a writer, Cardinal Ravasi collaborates with newspapers and edits television programs. For more than 25 years he conducted the Sunday column "Le frontiere dello Spirito" on the national television station Canale 5. He has edited various editions of the Bible, biblical dictionaries and introductions to the Scriptures; he is the author of many introductions and prefaces to the works of many exegetes and writers. He collaborates with various daily newspapers, including L'Osservatore Romano, Avvenire, in which for over fifteen years he has published the column Mattutino, and Il Sole 24 Ore, an economic daily newspaper, in whose Sunday literary supplement he presents every week theological or socio-cultural publications.